Product Description
LPC vauum tube collector is an economic selection for hot water generation and process heating system. Due to succinct collecctor structure with vacuum tubes and manifold box, it has long operating life time but short pay-back period.
LPC vacuum tube collectors are wildly used and installed for large scale hot water heating system, especially for hotel, appartment, hospital, swimming pool, industrial process heating system, etc.. LPC vacuum tube collector system has been the most cost-effective solution for large scale solar hot water heating with temperature below 75 degree celsius.
We can not only provide LPC collectors, we can also provide you whole solar water heating solution with LPC collectors.
Installation types
Flat roof, pitched roof or on the ground
Advantages and benefits
- long opeation life time but low maintenance costs and repqair requirements.
- quick and easy installation
- short pay-back period
- customized products solution
- high quality food-grade stainless steel inner tank maintains good water quality
- applicable for regions with different temperature reuqirement.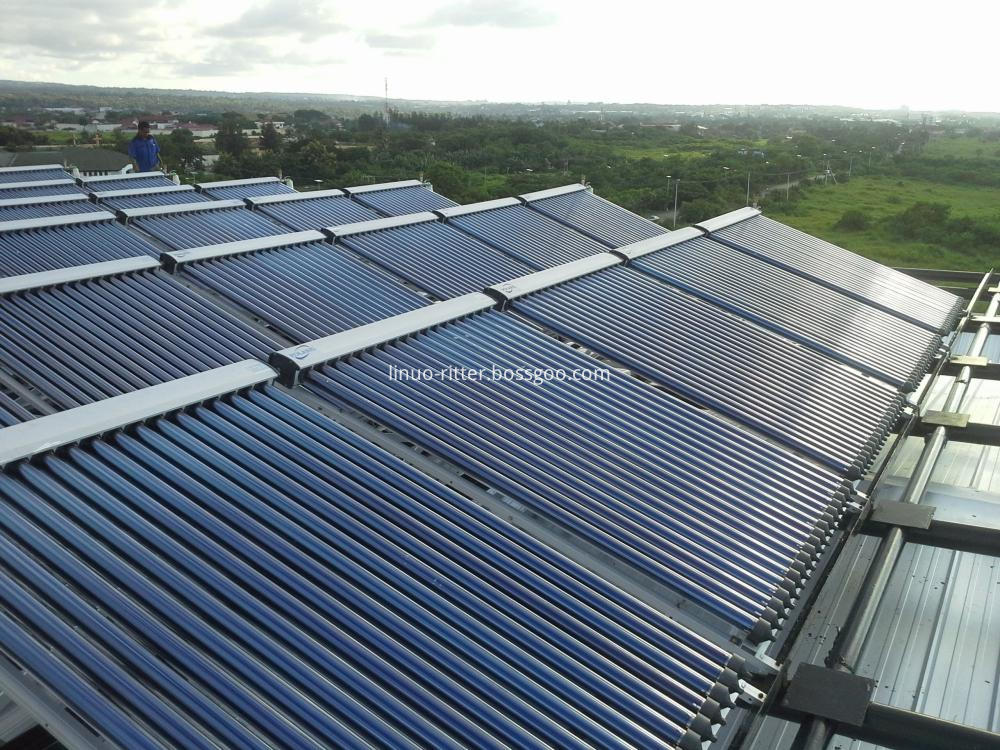 Specification

Parts

Content

LPC47-1550

LPC58-1850

Manifold

Inner Tank Material/Thickness

SUS304-2B / 0.5mm

Outer Tank Material/Thickness

Aluminum Alloy / 2.0mm

Insulation Material/Thickness

Polyurethane/45mm

Inlet & Outlet Dimension

1'' (Inner Diamter: 25mm, Outer Diameter: 33.2mm)

Frames

Side and Bottom Frames

Aluminum Alloy

Tubes

Evacuated Tube

φ47×1500mm

φ58×1800mm

Distance between each two tubes

70mm

80mm

Nos of Tubes

50 Pieces

50 Pieces

Packing

Evacuated Tubes are Separately Packed

1580x280x200mm (15pc/cartoon)

1880x350x170mm (10pc/cartoon)

Dimension

grid measurements (length, height, depth)

3062x1900x154mm

3692x2080x189mm

Performance

max. working pressure burden bar

0.05MPa

max. stagnation temperature °C

95°C

Aperture Area

3.3 m

2

5 m

2

Gross Area

5.6 m

2

7.6 m

2