Product Description
High Efficiency Vacuum Tube Heat Pipe Solar Collector with 24pcs of heat pipe vacuum tubes
Performance characteristics
- Rapid thermal conductivity.
- High energy yield and low heat loss due to the high vacuum of the evacuated tubes.
- Operating at minimum ambient temperatures of -30 °C to maximum operating temperatures of 90 °C.
- Two loop system to constantly maintain a good water quality and to ensure water on cold days due to the anti-freezing medium in the solar circulation loop and an easy integration of other energy supplies.

Key benefits:
- High collector efficiency of medium temperature suitable for pressurized and non-pressurized solar thermal applications.
- Due to the rapid heat conductivity evacuated heat pipe collectors are suitable for solar thermal applications in cooler areas with low ambient temperatures.*
- Well-known indestructibility of the evacuated heat pipe collectors according to DIN EN 12975-2.

Recommended application areas:
Hot water generation and heating support.

*in dependence on the respective heat transfer medium.

Scope of delivery
Fully pre-assembled unit comprising
- 20 evacuated heat pipes,
- manifold with direct flow heat conduction unit and dry tube connection.
Collectors are packed in individual boxes. In addition, there is a sun protection sheet over the evacuated heat pipe collector.
The collectors can be both pre-assembled or dis-assambled, depending on customers' requirements.

Installation types
Pitched roof, flat roof, on-wall.

Advantages and benefits
- Short installation times due to complete pre-assembled collectors.
- Manageable module sizes for a very high performance and a quick and easy installation.
- Highly efficient thermal insulation.
- Flow and return pipes may be filled on the left or the right side of the manifold.
- High flexibility due to the different widths and lengths of the collectors.
- Pressurized and non-pressurized operation.
- Season independent operation depending on the heat transfer medium.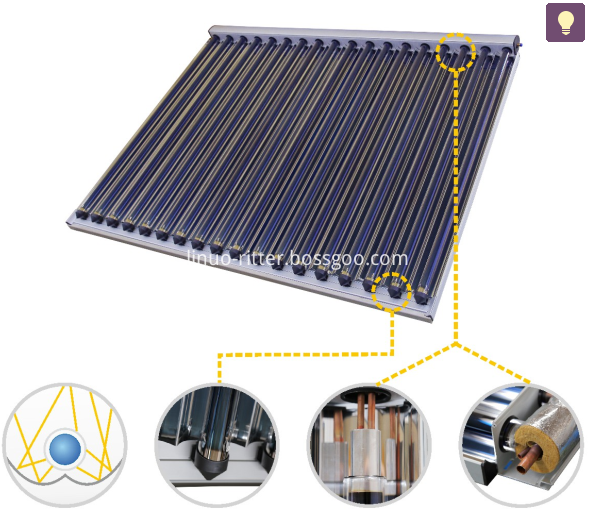 Series

R58-1824

Number of evacuated tubes




24

η0 in relation to aperture, EN 12975

%

0.745

a1 with wind, in relation to aperture area

W/(m

2

k)

1.875

a2 with wind, in relation to aperture area

W/(m

2

k

2)

0.007

Collector dimensions (LxHxD)

mm

1868x1910x110

Gross surface area

m

2

3.567

Aperture area

m

2

2.429

Collector contents

l

1.285

Weight

kg

81

Max. working overpressure

bar

8

Max. stagnation temperature

°C

245

Connection fitting diameter

φ (mm)

22

Collector material




Al / Cu / glass / silicone / PBT / EPDM / TE

Glass tube material




Borosilicate glass 3.3

Selective absorber coating material




Cu / SS-AIN / AIN

Glass tube (Ø ext./ int./wall thickn./tube lgth.)




58/47/1.6/1800

Colour (aluminium frame profile, anodised)




Aluminum grey

Colour (plastic parts)




black

Heat Pipe

Working medium




Super Conductivity Technology - Inorganic Media

Operating pressure

bar

0.8

Startup temperature

°C

≤

30

℃

Copper type




TP2

Evaporation part diameter

mm

8

Thinkness of copper tube

mm

0.6

Evaporation part length

mm

1700

Condensation part diameter

mm

14 / 24

Thinkness of copper tube

mm

0.6

Condensation part length

mm

55

Thermal shock test / ITW test number




154150039_Linuo_R1830-58-75_ISO_Report_chen

DIN CERTCO registration number




011-7S2830 R

Package dimensions (LxHxD)

mm

1960x1960x150