Product Description
For water, space and process heating and solar cooling.
Scope of Delivery
Fully pre-assembled unit comprising
- 6, 9, 12, 15 or 18 evacuated tubes based on the thermos flask principle
- manifold with direct flow heat conduction unit and dry tube connection
- CPC-reflector Collectors are packed in individual boxes.
In addition, there is a sun protection sheet over the evacuated tubes.
Installation types
- Pitched roof, flat roof, on-wall
Advantages and benefits
- Short installation times due to complete pre-assembled collectors.
- Simple and reliable connection technology in order to extend several collectors side by side through pre-assembled screw connections. Further tubing and an extensive thermal insulation is not necessary.
- Integrated return pipe and highly efficient thermal insulation.
- Manageable module sizes for a very high performance and a quick and easy installation.
- Flow and return pipes may be fitted on the left or the right side of the manifold.
- High flexibility due to the different widths and lengths of the collectors.
- Quick and easy exchange of the evacuated tubes without using any tools.
Performance characteristics
- Low pressure loss allows several modules to be connected in series
- Minimum of soldering points ensures a high leakage safety
- Well-known indestructibility of Ritter Solar tubes confirmed by the hailstone test DIN EN 12975-2
- High energy yield in the transitional period and winter
- In wintery conditions with a 400 W/m2 irradiation and 0 °C air temperature at a temperature of 20 °C, Ritter Solar evacuated tube collectors already have a higher energy yield than flat collectors.
- Extremely low heat loss due to the high vacuum.
- Outstanding design.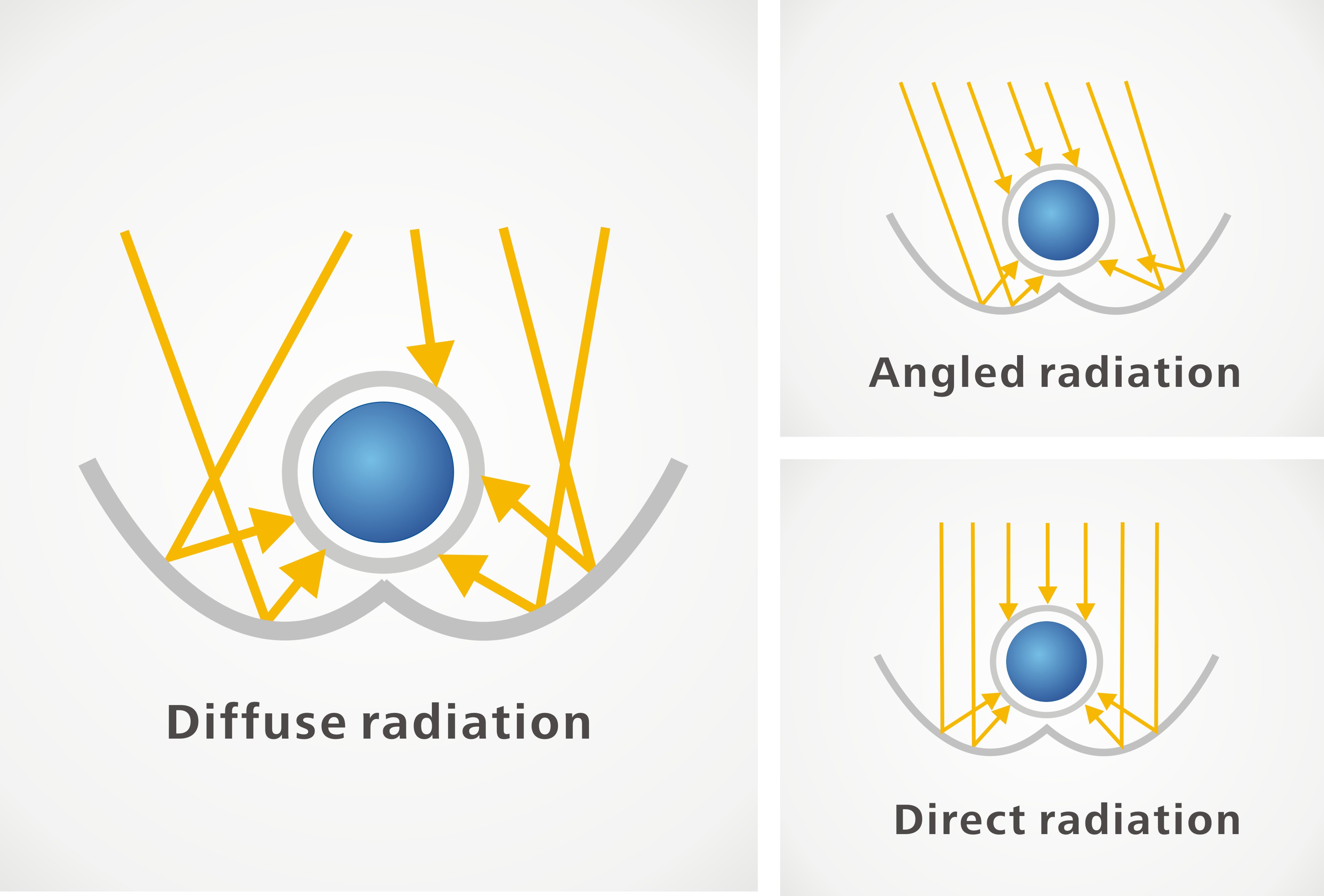 Fully pre-assembled unit comprising
- 6, 9, 12, 15 or 18 evacuated tubes based on the thermos flask principle
- manifold with direct flow heat conduction unit and dry tube connection
- CPC-reflector
Collectors are packed in individual boxes. In addition, there is a sun protection sheet over the evacuated tubes.


Installation types
- Pitched roof, flat roof, on-wall

Advantages and benefits
- Short installation times due to complete pre-assembled collectors.
- Simple and reliable connection technology in order to extend several collectors side by side through pre-assembled screw connections. Further tubing and an extensive thermal insulation is not necessary.
- Integrated return pipe and highly efficient thermal insulation.
- Manageable module sizes for a very high performance and a quick and easy installation.
- Flow and return pipes may be fitted on the left or the right side of the manifold.
- High flexibility due to the different widths and lengths of the collectors.
- Quick and easy exchange of the evacuated tubes without using any tools.

Performance characteristics
- Low pressure loss allows several modules to be connected in series
- Minimum of soldering points ensures a high leakage safety
- Well-known indestructibility of Ritter Solar tubes confirmed by the hailstone test DIN EN 12975-2
- High energy yield in the transitional period and winter
- In wintery conditions with a 400 W/m² Irradiation and 0 ° C air temperature at a temperature of 20 ° C, Ritter Solar evacuated tube collectors already have a higher energy yield than flat collectors.
- Extremely low heat loss due to the high vacuum.
- Outstanding design.

Specification
Series
CPC 1512
Number of evacuated tubes
12
η0 in relation to aperture, EN 12975 % 64.2
a1 with wind, in relation to aperture W/(m 2 k) 0.89
a2 with wind, in relation to aperture W/(m 2 k 2 ) 0.001
Yield forecast
(location Wurzburg, Germany, reference area 3 m 2 ) kWh/m 2 a 651
Yield forecast
(location Wurzburg, Germany, reference area 5 m 2) kWh/m 2 a 589
Grid dimensions (length x height x depth) m 1.39X1.64X0.1
Gross surface area m 2 2.28
Aperture area m 2 2.0
Collector contents l 1.6
Weight kg 37
Max. working overpressure bar 10
Max. stagnation temperature.1) °C 272
Connection diameter, compression fitting mm 15
Sensor sleeve mm 6
Collector material
Al / Cu / glass / silicone / PBT / EPDM / TPE
Glass tube material
borosilicate glass 3.3
Selective absorber coating material
SS-AL-N/Cu
Glass tube (Ø ext./Ø int./wall thickn./tube lgth.) mm 47/37/1.6/1500
Color (aluminum frame profile, anodized)
aluminum grey
Color (plastic parts)
black
Thermal shock test / ITW test number
06COL513/1
Hailstone test according to DIN EN 12975-2 / TUV test number
435/142448
EC type examination
Z-IS-DDK-MUC-07-08-100029919-003
DIN CERTCO registration number
011-7S1948 R