Product Description
All-in-one air to air heat pump for domestic hot water
Advantage and benefits
All-in-one design for easy installation and anti-freezing protection.
Dispersed cold water inlet avoiding cold and hot water mixing.
Anti-corrosion enamel tank for longer operation life.
D-type outer coil pipe for better heat exchanging with faster hot water outlet.
Intelligent pressure regulation control for maximum compressor efficiency.
Easy installation: no refrigeration connection to be made- only water fittings and an electrical plug. Any plumber can make it.
Energy-efficient heating performance: it is much cheaper to operate than electric element or gas bottle water heaters.
Security and stability: digital controller with continuously monitor performance. Copper coil outside of inner tank, indirect heat exchanging to ensure safety application of hot water.
High efficient heat pump rotary compressor: International famous brand such as Hitachi etc.
Space efficiency: different from split-system units, all components of a complete refrigerant systems are contained in one location, making package units ideal for situation in which indoor space is at a premium.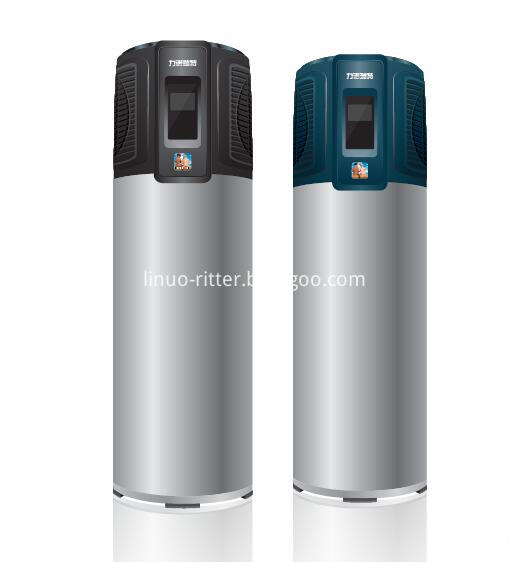 Specification
Serial No.

KZD35/150

KZD35/200

Power

220V,50Hz

Performance parameter

Heating capacity

1570W

Water heating capacity

35L/h

COP

3.69

Rated power

425W

Rated current

1.9A

Max. input power

1925W

Max. input current

8.7A

Refrigerating fluid

R134a/850g

Backup electrical heater rated power

1500W

Backup electrical heater rated current

6.8A

Water proof level

IPX4

Electric shock proof grade

I type

Water tank capacity

150L

200L

Net weight

88kg

100kg

Inlet/outlet

DN20

Max. pressure

0.85MPa

Max. allowed pressure by high/low pressure end

2.6MPa

Hot water temperature

65℃(heat pump)/75℃(backup heater)

Noise

55dB(A)

Dimension

φ545×1673mm

φ545×2002mm